लक्ष्मी जी की आरती

Lakshmi Ji Ki Aarti
ॐ जय लक्ष्मी माता, मैया जय लक्ष्मी माता ।
तुमको निस दिन सेवत, हर विष्णु धाता ॥
ॐ जय लक्ष्मी…॥१॥
उमा रमा ब्रह्माणि, तुम ही जग माता ।
सूर्य चन्द्रमाँ ध्यावत, नारद ऋषि गाता ॥२॥
दुर्गा रूप निरंजनी, सुख सम्पति दाता ।
जो कोई तुमको ध्यावत, ऋद्धि-सिद्धि धन पाता ॥३॥
तुम पाताल निवासिनी, तुम ही शुभ दाता ।
कर्म प्रभाव प्रकाशिनी, भव निधि की दाता ॥४॥
जिस घर में तुम रहती, सब सद्गुण आता ।
सब सम्भव हो जाता, मन नहीं घबराता ॥५॥
तुम बिन यज्ञ न होते, वस्त्र न कोई पाता ।
खान पान का वैभव, सब तुम से आता ॥६॥
शुभ गुण मंदिर सुन्दर, क्षीरोदधि जाता ।
रत्न चतुर्दश तुम बिन, कोई नहीं पाता ॥७॥
महा-लक्ष्मीजी की आरती, जो कोई जन गाता ।
उर आनंद समाता, पाप उतर जाता ।
ॐ जय लक्ष्मी…॥ ८ ॥
सर्वमङ्गलमाङ्गल्ये शिवे सर्वार्थ साधिके ।
शरण्ये त्र्यम्बके गौरी नारायणि नमोऽस्तु ते ॥

Goddess Maa Laxmi Aarti
1) Om Jai Lakshmi Mata, Maiyā, Jai Lakshmi Mata;
Tumko Nishdin Sevat, Har Vishnu Daataa.
Om Jai Lakshmi Mātā…
2) Umā Ramā Brahmāni, Tum Hi Jag Mātā;
Surya Chandramā Dhyaavat, Naarad Rishi Gaataa.
3) Durgâ Roop Niranjani, Sukh Sampatti Daataa;
Jo Koi Tumko Dhyaavat, Riddhi Siddhi Dhan Paataa.
4) Tum Paataal Nivāsini, Tum Hi Shubh Daataa;
Karm Prabhaav Prakāshini, Bhav Niddhi Ki Traataa.
5) Jis Ghar Mein Tum Rahti, Sab Sadguņ Aataa;
Sub Sambhav Ho Jaataa, Mana Nahein Ghabraataa.
6) Tum Bin Yagya Na Hote, Vastra Na Koi Paataa;
Khaan-Paan Kaa Vaibhav, Sab Tumse Aataa.
7) Shubhgun Mandir Sundar, Kshiro-dadhi Jaataa;
Ratn Chaturdash Tum Bin, Koi Nahein Paataa.
8) Mahā-Lakshmi Ji Ki Aarti, Jo Koi Jana Gaataa;
Ur Ānand Samaataa, Paap Utar Jaataa.
Om Jai Laxmi Mātā…
Lakshmi Mata Ki Jai !
This is the Aarti of Goddess Mahalakshmi, the Goddess of wealth and prosperity. She is the consort of God Vishnu and is worshiped by almost all the Hindu people all over Bhārat (India). The Hong Kong Hindu Community and in overseas countries also pooja – prayers are performed in particular devoted to Goddess Maa Laxmi; Maa Saraswati, Lord Ganesh, Dhanvantari and Kubera-dev followed with above aarti on the festival of Diwali and Dhan Teras; and on other auspicious days. Laxmi puja is performed at all the businesses places and at home on the Parva of Diwali.
Happy Diwali – Shubh Deepavali to all.
---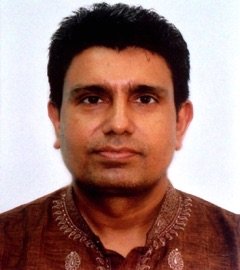 Ishwar Maharaj – Pandit Ishwar Sharma
Hindu Priest, Hong Kong

Hong Kong Address : P.O.Box 12637, Central, Hong Kong
E-mail: [email protected]
Hong Kong Mobile : 9498 7557
---

Hindu Community : Ceremonies, rites, and rituals are performed by Ishwar Maharaj – Pandit as and when required for those devotees in need for different poojas and prayers.